Chihiro Suga

No. 9 (Japanese Name)

SCAR-L

Fast
Statistic
HP
(Data)
CT
150
Firepower
(Data)
Accuracy
(Data)
Defense
(Data)
Evasion
(Data)
Speed
(Data)
Luck
(Data)
Range
2-3
Terrain
None
Equipment
Slot 1
(Lvl req.)
Slot 2
(Lvl req)
Slot 3
(Lvl req)
Slot 4
(Lvl req)
Slot 5
(Lvl req)
Skill
None
[(leader skill/low chance/moderate chance)]
None
Character information:
Description
A veteran who has participated in numerous battles and lived to tell the tale. With her irreporachable morals and disciplined conduct, she's earned a tremendous amount of trust on campus. In fact, she's seen as something of a good luck charm in battle.
Quotes
| Event | Japanese | English | Trivia |
| --- | --- | --- | --- |
| Introduction | | | |
| Motto | | Chihiro Suga, moving out. | |
Trivia
SCAR-L is lighter version of SCAR-H and is being used by U.S. Armed Forces as their signature weapon
There many variant of SCAR-L such as SCAR-L Mk 16 PDW and SCAR-L Mk 16 Mod 0. This girl using Mk 16 Mod variant
Gallery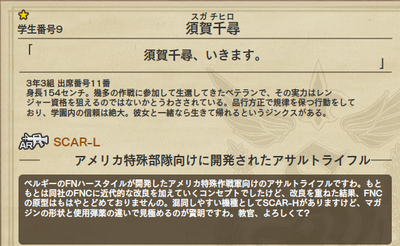 See Also