Oomiya Sumiko

No. 84 大宮澄子

FN Browning M1910

Fast
Statistic
HP
1045(1475)
CT
150
Firepower
1210(1910)
Accuracy
495(650)
Defense
440(800)
Evasion
363(495)
Speed
551(661)
Luck
100(180)
Range
1-2
Terrain
Cold
Equipment
Slot 1
Lv. 1
Slot 2
Lv. 1
Slot 3
Lv. ?
Slot 4
Lv. ?
Slot 5
Lv. ?
Skill
Vale Tudo
[(leader skill/low chance/moderate chance)]
When being attacked by a nearby enemy, have a low chance of delaying that enemy's next action






Quotes
| Event | Japanese | English | Trivia |
| --- | --- | --- | --- |
| Introduction | | | |
| | | | |
Gun Info
This right here is a handgun made back in 1908. It was designed to be round in form so that it could be quickly pulled from a pocket without catching its corners on the way out! It has a single action trigger and both a grip safety and a magazine safety, which made it one of the safest guns around at the time! That's what kept it in production and selling for nearly 70 years, too!
Trivia
Gallery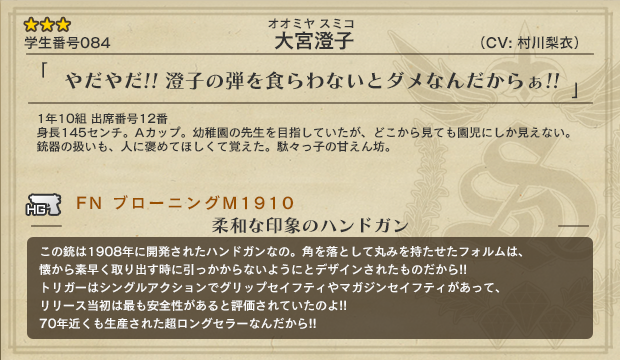 See Also
Ad blocker interference detected!
Wikia is a free-to-use site that makes money from advertising. We have a modified experience for viewers using ad blockers

Wikia is not accessible if you've made further modifications. Remove the custom ad blocker rule(s) and the page will load as expected.